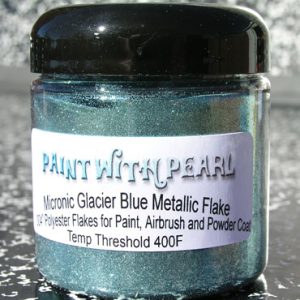 $

14.99 –

$

59.99
4 Fluid Oz Bottle of Glacier Blue Metallic Flake .004" for use in Paint, Airbrush, and Powder Coatings (that's four-thousandths of an inch). The great thing about these little metal Flake is that they still have a big reflection - without all the extra work of those bass boat Flake. The problem is, with larger Flake you need to do a lot of surface prep after spraying them. With our tiny Flake, you can still get a metal flake spray job and great sparkle without all of the flake sanding and prep work before applying your final clear coats. Small enough to spray through an airbrush and HVLP fine nozzle, with the benefits of the old school Flake sprayed by the legends of custom paint and powder coating.  These Glacier Blue Metallic Flake are truly classic in a custom paint job.
Select options
Metallic Paint Flake
Our Durable "metal Flake" are a great way to add sparkle to any paint job. Our Hexagon Flake are easy to spray, and solvent resistant enough to use in two part epoxy paints. They are heat resistant to 400 Degrees F. Each jar contains about 50 or so grams of metal Flake, or 1 measuring cup.  They can be used in many different mediums and even our small .004″ micro metal Flake have been known to give off big sparkle for a low price.  Several sellers on Ebay are actually buying our Flake, doubling the price, and reselling them. Since the demise of Old School Flake, we have taken over the top spot for custom paint metal Flake in the US.  All of our Flake are perfectly solvent resistant so that they can be mixed into the toughest paints without fading or bleeding like the hobby store glitters do. When using a black base coat, our .004″ metal Flake can cover an entire car using 1 jar.  As we often say, one jar does a car! We have seen people use many more for extra sparkle, though.  Get a great deal on metal Flake when you shop at Pearls and Pigment.
Pearls and Pigment is the original seller of pearl pigments on the Internet. We have been around since 2005, and have upheld an amazing reputation in customer satisfaction. You can always count on speedy shipping and great customer service.  When you call us, you will always talk to an owner of the company. That's great when you have special requests. We have been around since 2005. Check out our old site if you like.  As always, thank you for shopping with us!